Kathryn Joy MacDowall, Mark Kessler (Illustrator), and Sharmila Joy (Hand Lettering)
Reading age: 3-7 yrs
Share
Regular price
Sale price
$17.00 USD
Unit price
per
Sale
Sold out
"God spoke and stretched out the sky,
the heavens above and the clouds up high."
Discover how God spoke and created the universe—journey through the wonder of creation with rhyme and beautiful illustrations.
Let There Be Light imaginatively points the reader to the vastness and detailed handiwork of God's creation. The breathtaking illustrations will fill children of all ages with a deep sense of wonder. Readers will discover how God is intimately in the midst of His creation.
The engaging narrative follows the creation story and draws from the Psalms and other Bible verses that describe God's creative and loving character. This exceptional work empowers parents and ministry leaders to introduce children to the wonder of creation and the craftsmanship of God.
DEAR PARENTS:
Introduce your children to the wonder of God's creation through this beautifully illustrated picture book. Read along together and discover God's creative power. Look out for your favourite animals, underwater creatures, flowers and plants and learn that God's best creation is people - you and me. Based on the Genesis creation narrative, the book includes a range of Bible verses describing how God made the universe.
NOTE TO THE KIDDOS:
Have you ever wondered how the world began? Before there was something, there was nothing - until God spoke. With his voice and His hands, God made everything. As you turn each page of this Let There Be Light Book, look out for your favourite animals, underwater creatures, flowers and plants and discover that God's best creation is you and me. All of creation sings of God's mighty power. When you see the stars shine, the flowers bloom and the waves roar you can't help but be amazed at God's creative handiwork.
Shipping

Read our Shipping Policy here.

All downloadable file(s) will be available after the purchase is complete.
Return policy

Read our Refund Policy here.

Downloadable items cannot be refunded or exchanged.

If you experience an issue with your download (for example the link we provide does not work) we will supply a working link as soon as possible.
View full details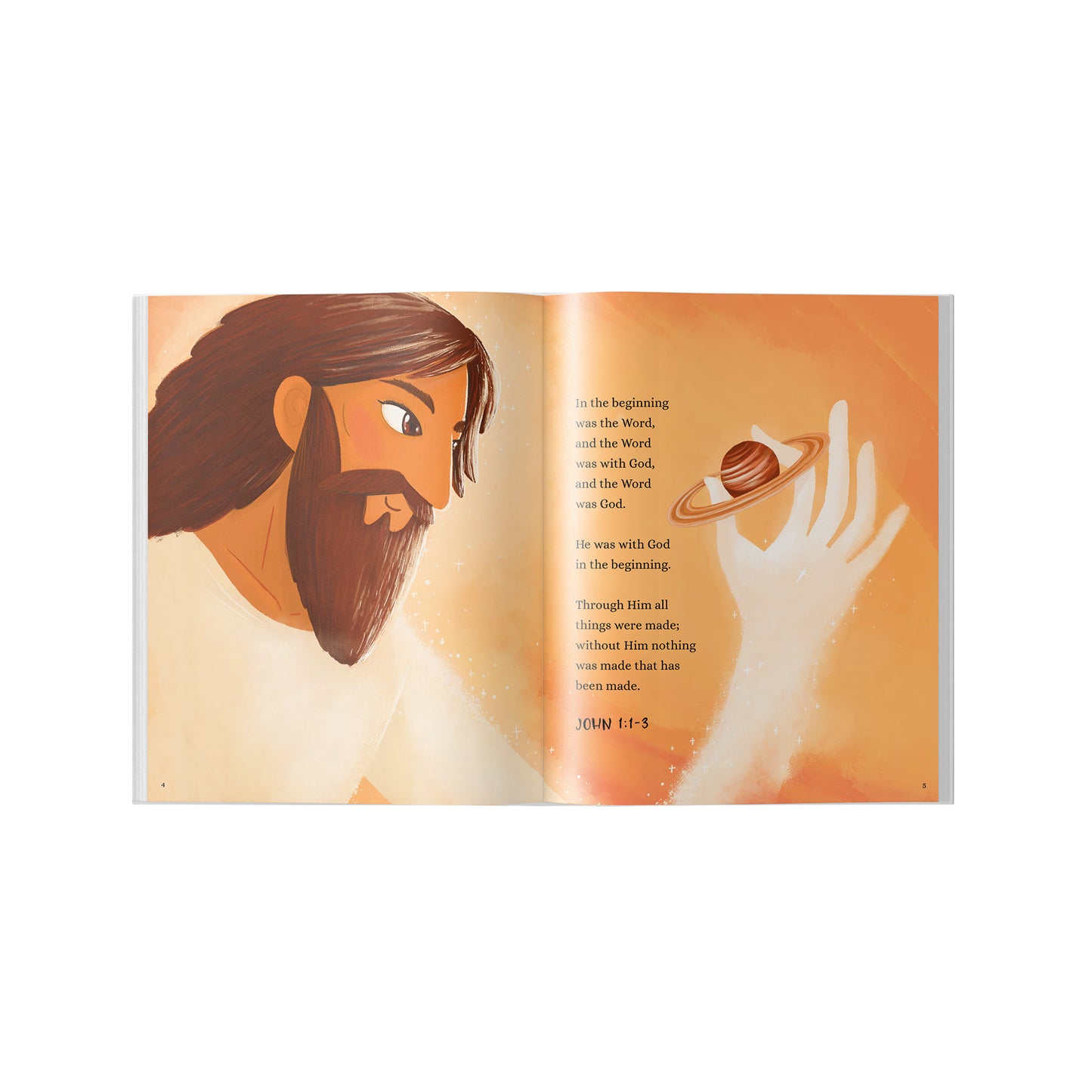 Kathryn Joy MacDowall lives in Sydney and loves to communicate the truth of God's Word to children and young people in a way that is engaging and creative. Kathryn can be found preaching and teaching children in her local church, where she has been on staff for twenty years. Kathryn is an expert in finding adventure and a good story in almost anything.

Mark Kessler developed a passion for storytelling after a strange encounter with a frog one rainy night He does this through his illustration and animation work. He lives in London with his wife and two children and together they also create resources to help families meditate on God's truth.

Sharmila Joy is a professional Christian hand-lettering artist who loves to encourage, inspire, and bring life through the creative expression of words. When she's not creating and working on her successful online business, selling faith filled home decor and gifts, she and her husband love exploring their local area in Cornwall U.K., being a part of their local church and enjoying great food with great company!
ISBN
9781922411464

Year
2023

Publisher
City & Vine

Pages
40

Language
English

Dimensions
8.9 x 10.9 x 0.3 in
227 x 277 x 7 mm